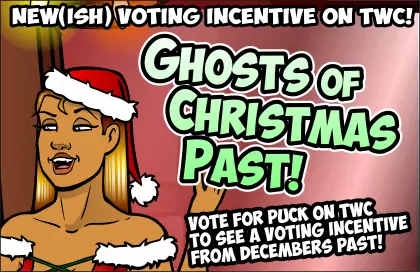 IT'S THE GHOST OF CHRISTMAS PAST!
Take a trip down memory lane as we revisit some voting incentives from previous Decembers. I DO have a new voting incentive in the pipeline for this December, and it's a doozy, but it'll take me a few more weeks to put the finishing touches on it. It will be ready for Christmas, though. Until then, I thought we could go for some reruns.
As for this comic…
We return to the nerd store for a few comics. We were last inside this place almost three years ago, though I'm guessing it's only been a month or two in-universe. Time flies.