Puck 578
on 
December 21, 2020
at 
10:54 pm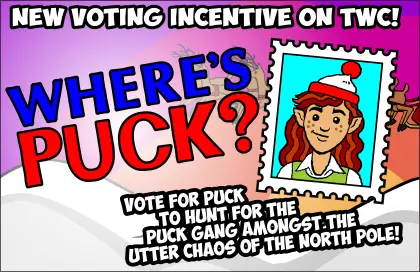 WHERE'S PUCK? IT'S A CHRISTMAS SEEK-AND-FIND!!!
Take a trip to the North Pole for a Where's Waldo? style adventure starring the Puck cast! (Or a Where's Wally? style adventure if you're across the pond.) The whole gang's there along with a plentiful pile of elves!
As for this comic…
We come to the revelation that readers have been screaming in the comments for weeks now: the obvious fact that the beard is, was and has always been the primary stumbling block on the road to Colin's cosplay success.
Will we be able to handle a beardless Colin? Honestly, I don't really know. I haven't actually drawn him without a beard in a long, long time. Gonna be interesting.