Puck 579
on 
December 28, 2020
at 
10:39 pm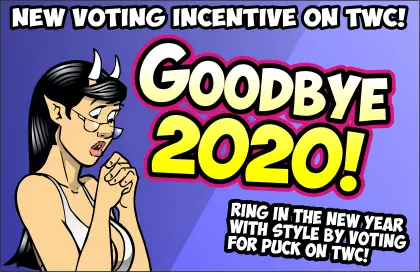 RING IN THE NEW YEAR WITH PUCK!
Celebrate the New Year and the end of 2020 with Puck and Phoebe!
As for this comic…
Because some of my readers live across the pond, I need to note that in Canada (and to a lesser extent in the United States), manual transmission cars are exceedingly rare. (Glancing at one source, it put the manual figure around 1.2% of all cars sold.) The only people who drive manuals are old people who grew up with them and race car wannabes who believe it makes them somehow channel their inner Steve McQueen. British readers will scoff at this, and say that our automatic-loving country is obviously full of idiot grandpa drivers who lack fortitude and intelligence, but … honestly? Manual cars are an overtly bad choice 99% of the time. They're less convenient, no more fuel efficient and make drinking coffee while driving that much harder. I chalk up the British obsession with manual cars to the same bizarre quirk that makes Brits refuse to ever install air conditioning. It's just the British way to choose suffering. It's fun for them.
This is a very indirect way of saying that Colin's lack of familiarity with manual cars is not unusual in Canada. Though as a nerd, he really should recognize the Batman Begins reference.