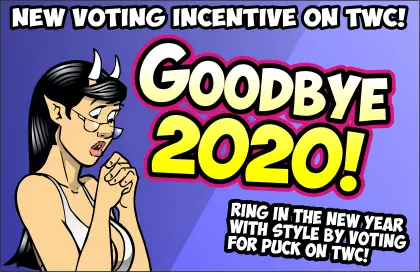 RING IN THE NEW YEAR WITH PUCK!
Celebrate the New Year and the end of 2020 with Puck and Phoebe!
As for this comic…
Jeeeeeeee-sus. I honestly can't remember a time that a single comic took longer. I finished this strip less than an hour ago, after working on it steadily for many days. And it doesn't look like much, does it? Just a standard comic; nothing special. But the number of characters per panel always makes for a longer process, and this one has a lot of characters. Then I realized last night that none of my pre-drawn images of the book shelf behind the couch lined up with the angle this comic required, which means I needed to put in another five hours drawing, inking and coloring the book shelf from a slightly different angle. (You might ask, "Why did you do that? Surely the other image would have worked," but trust me, it looked weird and it was distracting.) Anyway, it's done.
When brainstorming ideas for this comic, I had to ask myself a question: what movie or TV show would engross Puck, Phoebe AND Miranda? I mean, Puck and Phoebe don't exactly see eye-to-eye on much, and Miranda's a toddler. But then it came to me, like a bolt of lightning. BUELLER. It was the only answer. Though I'm happy to hear your better suggestions in the comments.