Puck 591
on 
March 22, 2021
at 
9:59 pm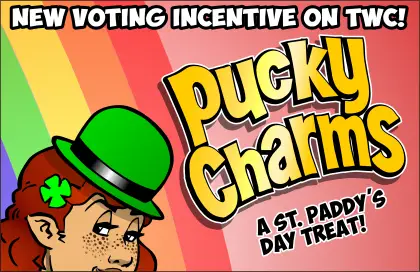 NEW MARCH VOTING INCENTIVE!!!!
I asked my patrons who should be a leprechaun this year and they voted for Puck, so…
VOTE TO KISS THE BLARNEY STONE!!!
As for this comic…
Phoebe's line in panel three is about the closest thing to sass we've ever seen come out of her. Though I think it's still in character because it's an observation of fact. Sass through factual observation. But that's what happens when you're pushed to the limit.