Puck 592
on 
March 29, 2021
at 
9:11 pm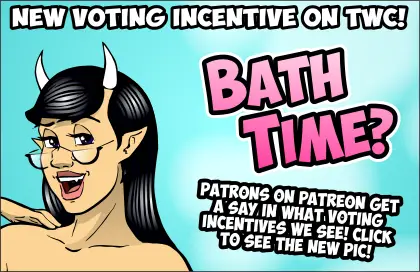 APRIL VOTING INCENTIVE NOW HERE!!!
It's April, and that means a new incentive is up! Time to get clean with Phoebe! I had a bit of trouble uploading this one, but it's working now, so…
As for this comic…
The matter is settled. The roles are set. They're finally ready to pile into that Mystery Machine. Tyler, by the way, is now recast as Shaggy. We didn't clearly establish that in the comic but I thought we didn't need to really spend time on that because I doubt he'd really get much of a say in the matter.
Onwards and upwards, people!