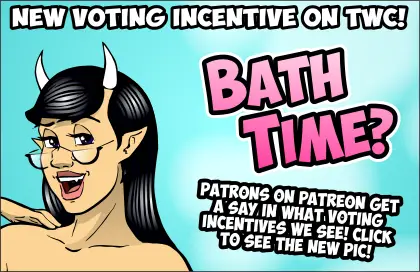 APRIL VOTING INCENTIVE NOW HERE!!!
It's April, and that means a new incentive is up! Time to get clean with Phoebe! I had a bit of trouble uploading this one, but it's working now, so…
As for this comic…
The narrative finally acknowledges what all the readers have been declaring vehemently in the comments section for the past few months: that gentlemen prefer Velmas. Though I will argue that it's specifically nerdy gentlemen that prefer Velmas. That said, nerds are the only ones who ever ask or answer questions like, "Which is better: Daphne or Velma?" Cool guys are too busy doing … cool things. I'm not sure what those cool things are. Probably something to do with football. Or cars.