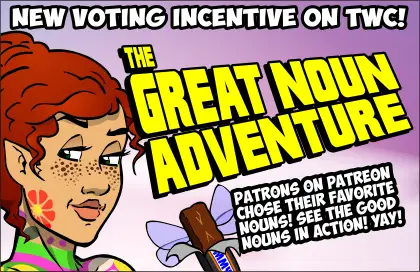 JUNE VOTING INCENTIVE READY TO BE INTERCEPTED!!!
I asked my fine patrons on Patreon about the nouns they wanted to see in a voting incentive. Then I collected them all, put them to a chaotic vote, and am going to spend the next while making those noun dreams a reality through crazy voting incentives!
VOTE TO SEE NOUNS BY THE POUNDS!!!
As for this comic…
Sometimes a comic just requires you to draw a whole bunch of vehicles and landscapes and roads and stuff. Those are my least favorite comics because it's the stuff I really hate drawing, but they're necessary every once in a while. This comic is one such example.
And I think you can maybe now sense where this comic is going. When I started this arc, I had one reader complain, saying something like, "Really? You're doing a con story? So many webcomics have done con stories and they're always a letdown. I just don't find the 'characters go to a con' storyline to be very interesting." Or something like that. And here's the deal: I completely agreed with every word he said.
But this story arc was never about the destination. It's all about the friendships we strain along the way.