Puck 624
on 
November 8, 2021
at 
9:56 pm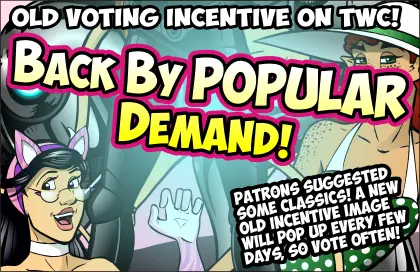 BACK BY POPULAR DEMAND! NEW OLD VOTING INCENTIVES POPPING UP ALL MONTH!!!
The Patreon bunch suggested some classic voting incentives from times past, so check out their choices this month! A 'new' old incentive will be showing up every few days, so vote often to catch them all!
As for this comic…
Pffffffffffffffffffft.
That is the sound of my willpower draining.
I now (in retrospect) realize this story arc was a bit of a mistake. It's sound in principle but (as with many things) it doesn't fully work in the weekly format of my comic. If this were a cartoon, this would be a fun parody episode that would come and go. But with my glacial updating pace, it's running on a full year and it seems to be testing the patience of some readers. And I get it.
I think everyone can sense that this is a goofy, lighthearted side arc that doesn't really advance the main story much. (Although certain things might advance in certain ways, so it's not ALL fluff.) As it is, though, the nature of the content is seriously hurting engagement. I think I've lost a lot of readers who like the narrative and the 'drama' (or the closest approximation of drama that this comic affords). I hope they return when this arc is over, but one look at the comments lets me know that this isn't working. Comics from previous story arcs would sometimes have HUNDREDS of comments under them. These new comics, meanwhile, regularly have fewer than twenty.
I can't bail, of course; I need to see this nightmare out and come out the other side. But I am anxiously awaiting the end of this arc. And I think a number of you are too.