Puck 625
on 
November 15, 2021
at 
10:00 pm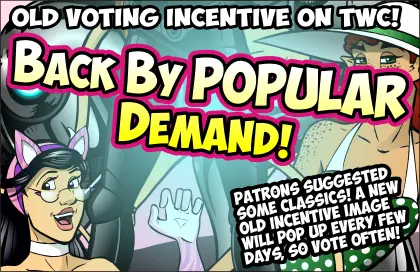 BACK BY POPULAR DEMAND! NEW OLD VOTING INCENTIVES POPPING UP ALL MONTH!!!
The Patreon bunch suggested some classic voting incentives from times past, so check out their choices this month! A 'new' old incentive will be showing up every few days, so vote often to catch them all!
As for this comic…
For those of you who were wondering where Phoebe was in the last comic, here's your answer: she was hiding off-panel just to make this joke work.
A big thanks to everyone who commented last week, letting me know that you don't think this story arc is driving the comic off a cliff. People were very reassuring, and that was helpful. And as it is, we're getting closer to the home stretch in this story. We've still got a ways to go, but the end is in sight. I think.