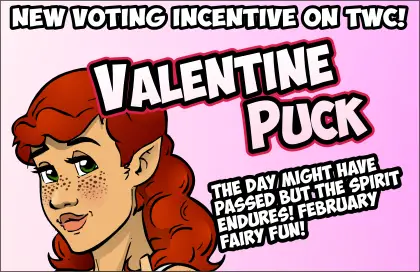 IT'S A VALENTINE'S DAY VOTING INCENTIVE!!!
Just a little Puck for the post-Valentine's Day peoples, so…
VOTE TO PROVE ROMANCE ISN'T DEAD!!!
As for this comic…
Those who are readers who've come to the comic more recently (and by 'more recently', I mean 'within the past five years') may not remember the incident that Puck is referring to in panel four. But back in the 'Canada's Funderland' arc, Puck did get accidentally smacked by Phoebe. And apparently the memory is still strong.
Some might question the fact that, when confronted by a monster during this arc, the pugnacious Puck fled while the peaceful Phoebe took to her fists. And you would be right to question that. And I don't have a very good answer for you other than to say that you don't really know how you'll react to a big monster behind you until it actually happens.
The world in an unpredictable place.
The world of webcomics even more so, I guess.