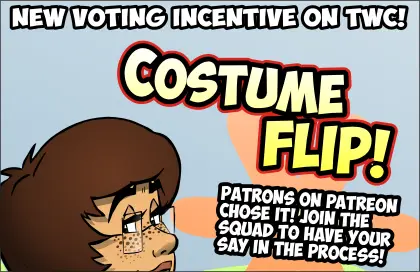 IT'S A NEW MARCH MADNESS INCENTIVE!!!
The folks over on Patreon were curious about what might have been if Puck actually played Velma and Phoebe played Daphne, so if you want to see the first component of that swap…
VOTE TO MAKE THE MAGIC HAPPEN!!!
As for this comic…
The big reveal. Which isn't exactly surprising, but I will say that I'm happy we got this far without anyone really calling it out in the comments. Okay, ONE reader called it a week or two back as a bit of a joke, but other than that, nothing! I was worried because I thought the visuals of the 'monster' would clue people into its true nature, but I guess not.
I suppose this is an example of a flawed 'whodunnit' mystery resolution where the perpetrator is a character who wasn't even featured directly within the story arc's narrative. But hey, that's what you come to this comic for, right? Flawed storytelling.
Other than that, I just need to note that there isn't much cause for joy in the world at large right now. I'm going to keep my head down, keep making my stupid comic and hope for saner times.