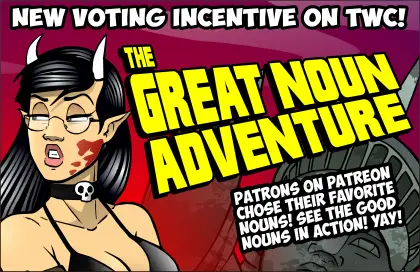 The GREAT NOUN ADVENTURE RETURNS!
A year ago we did a big, weird noun-voting experience over on Patreon with my $5+ patrons and this year it came back with much fanfare! And now you get to see the bizarre results! It's a pile of weird nouns just thrown into a blender. What will result? Well…
VOTE TO EXPOUND WITH A GREAT DEAL OF NOUNS!!!
As for this comic…
I'm not sure if this is the first time that Colin's gotten legitimately angry. But I'm pretty sure it's at least the first time that he's gotten legitimately angry with good cause.