Puck 660
on 
July 18, 2022
at 
10:47 pm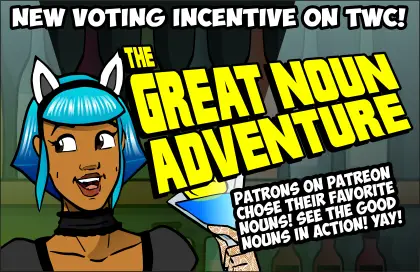 The GREAT NOUN ADVENTURE RETURNS!
A year ago we did a big, weird noun-voting experience over on Patreon with my $5+ patrons and this year it came back with much fanfare! And now you get to see the bizarre results! It's a pile of weird nouns just thrown into a blender. What will result? Well…
VOTE TO EXPOUND WITH A GREAT DEAL OF NOUNS!!!
As for this comic…
The appearance of the Hotdog Guy indicates that the story arc has come to an official close. Puck's debriefing with him seem to have evolved into a structural story arc closer. And that will inevitably cause some confusion with newer readers who are confused by the presence of a hot dog in the psychotherapist's office. Suffice it to say there's deep lore going on here.
I personally look forward to these psychotherapy comics because they're relatively simple to draw. It's just four images of Puck; the only complexity comes from whatever outfit I choose to put her in. And this is a simple outfit. My wife gave this dress the seal of approval, but that makes sense because she has a number of dresses with a very similar cut. Art vaguely imitates life, I suppose.