Puck 661
on 
July 25, 2022
at 
10:50 pm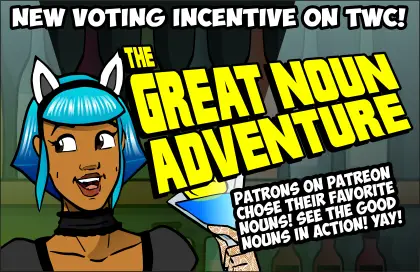 The GREAT NOUN ADVENTURE RETURNS!
A year ago we did a big, weird noun-voting experience over on Patreon with my $5+ patrons and this year it came back with much fanfare! And now you get to see the bizarre results! It's a pile of weird nouns just thrown into a blender. What will result? Well…
VOTE TO EXPOUND WITH A GREAT DEAL OF NOUNS!!!
As for this comic…
We're back in the nerd café, and everything Scooby-related comes to a close. The next bunch of comics will not really form a real arc; they'll just be some in-between stuff that will sort of form a mini-chapter before we start the following major arc. So get ready for some shorter nonsense featuring minor characters.
Speaking of minor characters, I noticed that both Cy and Emily the Cat Girl have not yet been added to the character list. I'll have to get on that, I guess.