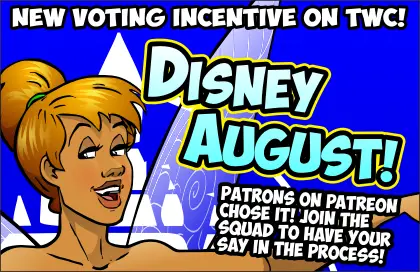 It's a DISNEY KIND OF AUGUST!
We've done Disney villains before, but we're doing more heroic characters this time. The patrons threw down some suggestions, and you'll see the results in the coming weeks!
VOTE TO PUT THE MAGIC BACK IN THE KINGDOM!!!
As for this comic…
Hey look! It's the rare 'two dudes talking' comic! They are like strange, exotic flowers that grow in weird locations on the landscape. I would say that we should savor them when they occur, but honestly, I'm glad that they're relatively rare.