Puck 670
on 
September 26, 2022
at 
10:49 pm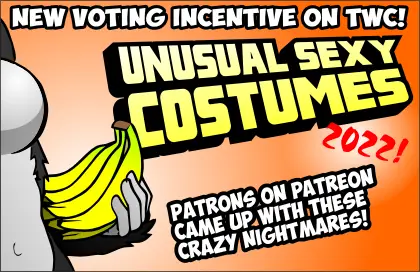 COSTUMES COME BACK! WAY TOO STUPID!!!
Are you ready for the weird? The unexpected? Well, vote for Puck on TWC to see the weirdest, least expected costumes ever! A new one's popping up each week, so…
VOTE TO EMBRACE THE INSANITY!!!
As for this comic…
We get a name. And a little more info. Nothing that would shock anyone, though.
Just to clarify, this mini-arc isn't spinning off into any grand story or anything. It's just introducing a new character who may get a bit more play in later arcs. But no, this isn't really going anywhere. Not right now, anyway.