Puck 671
on 
October 3, 2022
at 
10:57 pm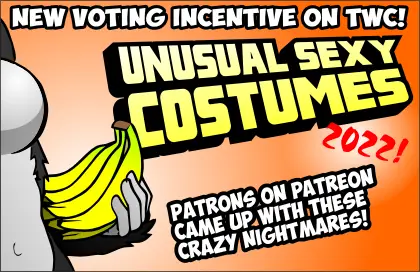 COSTUMES COME BACK! WAY TOO STUPID!!!
Are you ready for the weird? The unexpected? Well, vote for Puck on TWC to see the weirdest, least expected costumes ever! A new one's popping up each week, so…
VOTE TO EMBRACE THE INSANITY!!!
As for this comic…
Well, at least now we know why she went with a vintage sexy Doctor pick. Because she is 'an Old'. And those of you who argue that 39 is not, in fact, old are right … and likely much older. But you should know that in Internet terms, anything beyond age 25 is positively ancient. The Internet operates on high school rules. I've been teaching high school since I was 22; students thought I was old back then, and they still think I'm old now. the various shades of old are irrelevant to the young. And to the Internet.
This comic, though, is a safe space for all aged cyber-citizens. Welcome all geezers to the geezer-fest. We belong here.