Puck 672
on 
October 10, 2022
at 
10:58 pm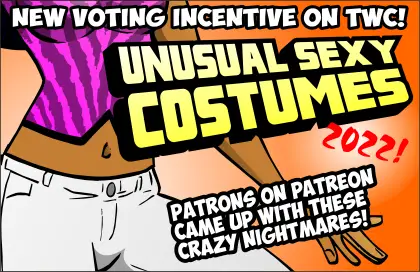 COSTUMES COME BACK! WAY TOO STUPID!!!
Are you ready for the weird? The unexpected? Well, vote for Puck on TWC to see the weirdest, least expected costumes ever! A new one's popping up each week, so…
VOTE TO EMBRACE THE INSANITY!!!
As for this comic…
Almost done with this little mini-arc. For once it wasn't a lengthy narrative that took two years to tell. And coming up: another relatively short little episode that won't take too long to complete. How strange.
Oh, and some of you may be wondering, "Does an original Megatron in box really sell for $500?" And the truth of the matter is that Cy is pretty seriously undervaluing it. They regularly sell for closer to a grand. And if you're wondering whether I own one, I'd really not like to disclose that. (But yes, yes I do.)