Puck 673
on 
October 17, 2022
at 
10:48 pm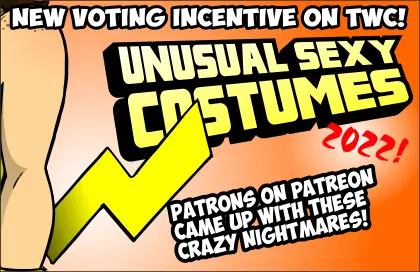 COSTUMES COME BACK! WAY TOO STUPID!!!
Are you ready for the weird? The unexpected? Well, vote for Puck on TWC to see the weirdest, least expected costumes ever! A new one's popping up each week, so…
VOTE TO EMBRACE THE INSANITY!!!
As for this comic…
We learn a little more about Emily. And if you're wondering if this comic is vaguely inspired by Monty Python's 'Mouse Problem' skit, you are correct.
This marks the end of this little mini-arc, by the way. Next week we're onto another little mini-arc. What'll it be about? Well, you'll just have to wait and see!