Puck 674
on 
October 24, 2022
at 
10:34 pm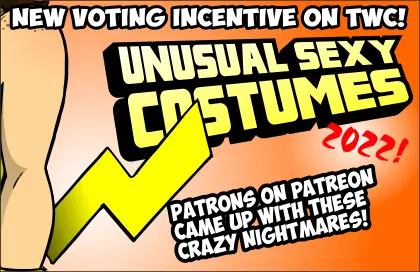 COSTUMES COME BACK! WAY TOO STUPID!!!
Are you ready for the weird? The unexpected? Well, vote for Puck on TWC to see the weirdest, least expected costumes ever! A new one's popping up each week, so…
VOTE TO EMBRACE THE INSANITY!!!
As for this comic…
And now you see why I named this little arc 'Short Girls'. We already introduced Bethany, and now we have a returning short girl to round out the experience. Hannah's back! And wearing a beret! I think these are good developments.
In other news, I found out after writing the comic that the term 'up-market' is a solely British term, and I'm apparently not supposed to use it on this side of the pond. I guess the North American term here would more likely be 'upscale', but I like 'up-market' better. It just sounds classier.