Puck 676
on 
November 7, 2022
at 
10:01 pm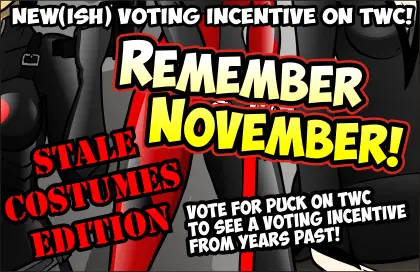 IT'S ANOTHER MONTH OF RERUNS!!!
This November we'll be taking a trip down memory lane and looking at a bunch of costumes from previous Halloweens. A new (old) incentive will pop up every few days, so…
As for this comic…
I must note that, as a parent, I cannot condone such behavior. As a Hamiltonian, I also cannot recommend getting dropped off on Cannon Street and going for a stroll, no matter what the circumstances. But I think my disapproval would only be an incentive for Hannah.