Puck 677
on 
November 14, 2022
at 
11:03 pm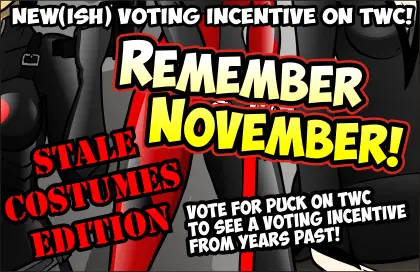 IT'S ANOTHER MONTH OF RERUNS!!!
This November we'll be taking a trip down memory lane and looking at a bunch of costumes from previous Halloweens. A new (old) incentive will pop up every few days, so…
As for this comic…
There are, of course, video games that offer the blind some entertainment value. Maybe visual novels with full voice-acting? Maybe? Games with an emphasis on the music? But when you're talking about most shooters, the aural experience is pretty awful: lots of shots and grunts and footsteps and maybe some repetitive speech lines. Heck, you don't have to be blind to be driven crazy by it; just being in the same room as a non-player and listening to the incessant audio feed can sometimes slowly eke away at your sanity.
Which is why I'm increasingly a fan of headphones.