Puck 678
on 
November 21, 2022
at 
10:42 pm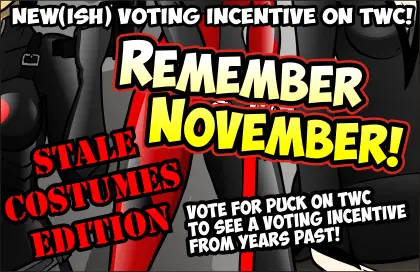 IT'S ANOTHER MONTH OF RERUNS!!!
This November we'll be taking a trip down memory lane and looking at a bunch of costumes from previous Halloweens. A new (old) incentive will pop up every few days, so…
As for this comic…
I'll readily admit that Hannah's observation might have been a little more applicable about six years ago, when popular music sort of hit a veritable booty-centric zenith. But there's always been a kernel of truth to this statement ever since Sir Mixalot opened the floodgates in the mid-90's.
I spent a lot of time and thought trying to figure out how to graphically depict Daphne listening to earbuds, given the fact that she doesn't have human years in the regular place on the head where ears go. I think the end result is as not entirely wrong as I can get it.