Puck 680
on 
December 5, 2022
at 
10:41 pm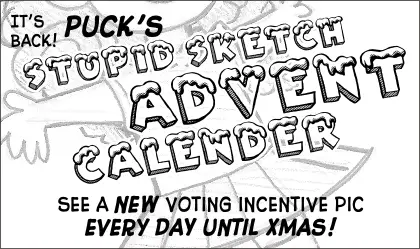 IT'S A PUCK ADVENT CALENDAR!!!
This December we'll be posting a brand new sketch every day straight to Christmas, so…
VOTE EVERY DAY TO CATCH 'EM ALL!!!
As for this comic…
I've said this in a previous comic before, but Hannah's main inspiration is the mother of a childhood friend who (like Hannah) could only see vague shapes and colors, and only when objects were held up right against her eye. Her favorite hobby? Jigsaw puzzles – like, the jigsaw puzzles that have at least 1000 pieces. Huge jigsaw puzzles that covered the whole dining room table. She would look at each piece individually, holding it up to her eye, and as she assembled the puzzle she would basically generate a mental map of the vague color regions in the image, assembling it all through touch.
It's always humbling to meet a person who does the seemingly impossible. With ease.