Puck 682
on 
December 19, 2022
at 
11:04 pm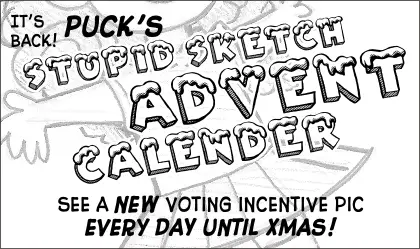 IT'S A PUCK ADVENT CALENDAR!!!
This December we'll be posting a brand new sketch every day straight to Christmas, so…
VOTE EVERY DAY TO CATCH 'EM ALL!!!
As for this comic…
What everyone was really waiting for: Dutch humor.
I suppose there are some people who will not have the cultural knowledge necessary to find ANY of this comprehensible. But to put it simply, the Dutch Reformed Church is a rather austere Protestant movement that is somewhat prominent around my neck of the woods. They don't forbid technology like some groups of the Amish or the Mennonites, but they tend to be very serious Calvinists who smile upon diligent labor and frown upon all sorts of fun. There are, to be fair, multiple wings of the Dutch Reformed movement, some far more conservative than others. Around here, though, they all tend to be very stern, very disapproving types that marry young and marry Dutch.
Also note that not all Dutchmen are Dutch Reformed. Some are Dutch Catholic – a.k.a. 'the fun Dutch'.