Puck 683
on 
December 26, 2022
at 
9:40 pm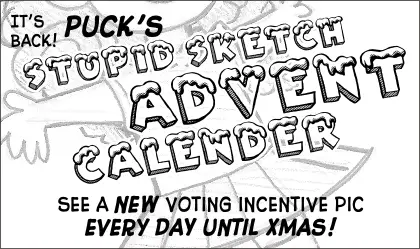 IT'S A PUCK ADVENT CALENDAR!!!
Christmas came and went, but you can still see the final pic in the Puck advent calendar, so…
VOTE EVERY DAY TO … um … SEE THE SAME PIC!!!
As for this comic…
Not much to say about the comic, but I do hope everyone is having a good holiday and Christmas went well for all the Christmas types out there. Please list your best gifts in the comic section below.