Puck 685
on 
January 9, 2023
at 
10:39 pm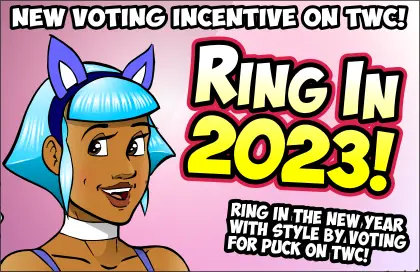 NEW YEAR!!! NEW INCENTIVE PIC!!!
VOTE TO CURE THEM JANUARY BLAHS!!!
As for this comic…
Done but worked to the wire on this one. Almost didn't finish it. Seems to be getting harder for me. Not sure if I'm taking longer than I used to or just getting too old and tired to keep the grind, but I'm trying.
Edit: I'm trying to upload these to the site in a slightly higher resolution. It doesn't make much difference on a standard computer screen, but on a phone or iPad, it makes a HUGE difference to the clarity. If it works, I might go back and upscale the back catalogue when I have the time.