Puck 690
on 
February 13, 2023
at 
10:57 pm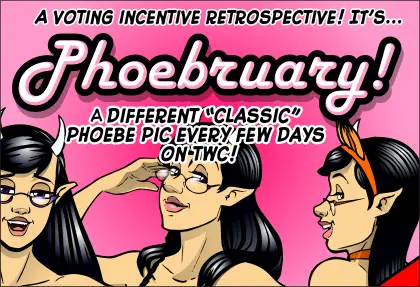 PHOEBRUARY RETURNS!!!
Every few days I'll upload a different classic Phoebe February pic. There's been a lot of them.
VOTE TO SUPPORT YOUR LOCAL PHOEBE!!!
As for this comic…
Sometimes I just submit to my desire to tell jokes that only a certain demographic will ever get. And now is one of those times. I think it's fine, though, seeing as my readership seems to be entirely made up of people over the age of fifty anymore. Not sure what that's about. Probably something to do with refined, mature tastes.