Puck 691
on 
February 20, 2023
at 
11:05 pm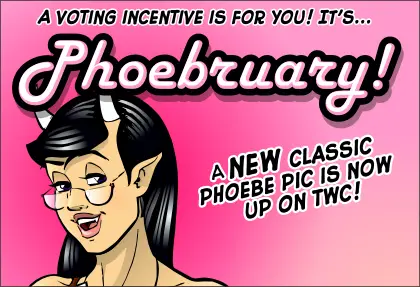 PHOEBRUARY CONTINUES!!!
We've hit the spectacular conclusion to Phoebruary, so vote to see the new and altogether crazy final entry!
VOTE TO SUPPORT YOUR LOCAL PHOEBE!!!
As for this comic…
Hey, the man knows what he likes.
For those who feel the giant painting of Tracee hasn't been given its due within the panels of this comic, you can take a look OVER ON PATREON if you're a patron and you'll find a full-size version of the image.