Puck 692
on 
February 27, 2023
at 
9:55 pm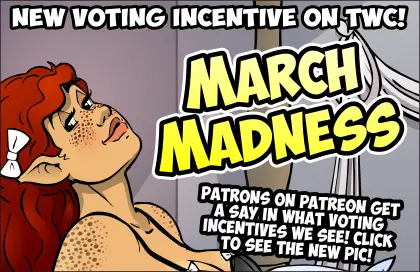 IT'S MARCH!!!
I'd like to say this month's voting incentive pic is seasonal, but nah. It is, however, a picture! If you'd like to see it…
VOTE TO BECOME THE KING OF CARTOONS!!!
As for this comic…
In doing research for this one, I learned a few things.
First, I learned that it's very hard to draw Kewpie dolls correctly. I did intentionally make these ones look a little freakier, but their unique look is hard to emulate.
Second, I learned that Kewpie dolls were created by Rose O'Neill, the first published female cartoonist in America. Pretty cool. She really guarded and managed her intellectual property carefully, too. In fact, she rejected the first dolls because they didn't match her drawings, so she had to personally supervise the creation of the final design. Obviously I wasn't the only one who struggled to stay on-model with her designs.
Third, I learned that real Kewpie dolls have tiny, creepy, blue wings sprouting from the backs of their necks. I am horrified by this fact.