Puck 694
on 
March 13, 2023
at 
10:30 pm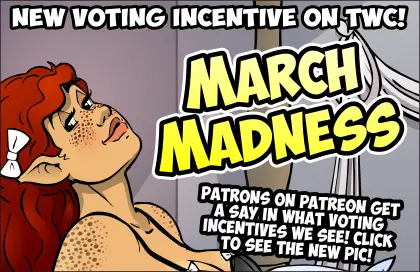 IT'S MARCH!!!
I'd like to say this month's voting incentive pic is seasonal, but nah. It is, however, a picture! If you'd like to see it…
VOTE TO BECOME THE KING OF CARTOONS!!!
As for this comic…
Lots of problems getting this one finished. Elements got corrupted, the file started acting really weird, and it was only through sheer luck that I was ultimately able to export a decent PNG version.
Anyway, more Satan. This arc is obviously going to be primarily Satan-centric, though Puck and the gang will be entering the picture relatively soon. (And by 'relatively soon', I probably mean 'in two or three months'). We're playing the long game here.