Puck 719
on 
September 4, 2023
at 
9:53 pm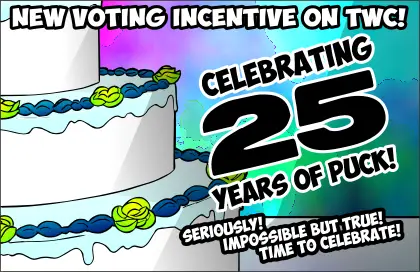 SEPTEMBER INCENTIVE ON TWC!!!
So yeah, as unbelievable as it is, we're celebrating 25 years of Puck! This stupid comic was started a quarter century ago by some dumb teen. Now that teen is old and has back pains and the comic is still somehow going. Let's celebrate!
VOTE TO CELEBRATE GOOD TIMES!!!
As for this comic…
This comic is inspired by a conversation I had with my friend Hope back in high school. Her parents were old, relatively speaking – so old, in fact, that her dad was 85 years old when she was 17. Once she was talking about how she needed to drive him around, and the exchange went something like this:
ME: Oh, your dad doesn't drive?
HOPE: Not anymore.
ME: Why did he stop? Was it his vision that was causing problems?
HOPE: Well, we just can't afford the insurance for him to drive anymore. Not after he hit those people.
ME: You mean he got into some fender benders?
HOPE: No, he hit people. Like, pedestrians.
ME: WHAT?!?!? Were they badly hurt?
HOPE: Well, the first person he hit wasn't hurt too bad, but the second time he hit a pedestrian, it was a little worse.
ME: YOUR DAD HIT MULTIPLE PEDESTRIANS ON MULTIPLE OCCASIONS?!?!?
HOPE: Yeah.
ME: No wonder he lost his license!
HOPE: But he didn't lose his license. We just can't afford the insurance.
Even though I had this conversation many decades ago, I'm pretty sure that's verbatim. It never left my brain: the fact that an old man could mow down multiple pedestrians and still legally drive.
And if it worked that way for him, why not Puck?