Puck 720
on 
September 11, 2023
at 
9:02 pm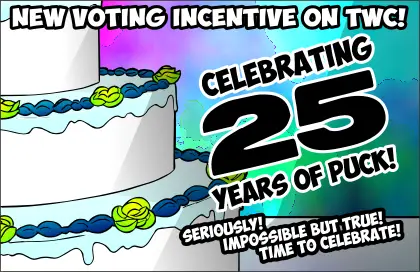 SEPTEMBER INCENTIVE ON TWC!!!
So yeah, as unbelievable as it is, we're celebrating 25 years of Puck! This stupid comic was started a quarter century ago by some dumb teen. Now that teen is old and has back pains and the comic is still somehow going. Let's celebrate!
VOTE TO CELEBRATE GOOD TIMES!!!
As for this comic…
It must be said that for a woman of limited financial means, Puck really does seem to have an extensive wardrobe. Her closet isn't as deep as Phoebe, who seemingly never re-wears a single garment, but it's pretty extensive. This is more to do with my desire to keep things fresh than any comment on the character. But it is an impressive achievement of hers nonetheless.