Puck 721
on 
September 18, 2023
at 
8:37 pm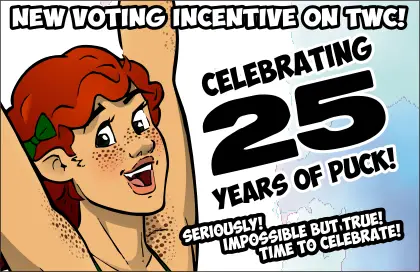 SEPTEMBER INCENTIVE ON TWC!!!
So yeah, as unbelievable as it is, we're celebrating 25 years of Puck! This stupid comic was started a quarter century ago by some dumb teen. Now that teen is old and has back pains and the comic is still somehow going. Let's celebrate!
VOTE TO CELEBRATE GOOD TIMES!!!
As for this comic…
Switching focus for a little bit. One of those rare comics without any female characters. Just dudes being dudes. Like that volleyball scene from Top Gun. Without the abs. Or the Tome Cruise. Or the volleyball.