Puck 498
on 
June 10, 2019
at 
8:54 pm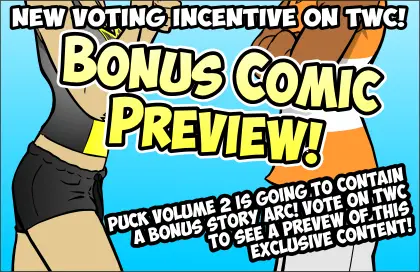 JUNE VOTING INCENTIVE UP NOW!
More bonus car wash comic stuff! Good times!
VOTE TO BE SO VERY, VERY KIND!
As for this comic…
I believe that Puck here really does bring up a powerful moral question here: would you feel a desire to push wheelchair guy down the hill? Note that the crux is not whether you would push him down, but whether you would feel some modicum of desire to do so. I cannot hide the fact that I am fully on the Puck and Daphne side of the equation. I would not push the man down the hill, but I would entertain myself for the next long while with thoughts of doing so. I am not, as it turns out, a very good person. But at least I'm aware of that and make no attempt to hide it.
How about you? Would you feel the tug of cruelty pull at your collar or wouldn't you?