Puck 544
on 
April 27, 2020
at 
10:07 pm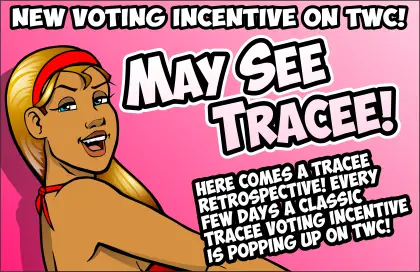 A MAY VOTING INCENTIVE CAVALCADE!
We're doing a Tracee retrospective this month! Every few days, another classic voting incentive will pop up! Make sure to vote often and catch them all!
As for this comic…
I know that Daphne really had no place to keep a phone, but that's nothing new for this comic. Characters have been pulling stuff out of hammerspace for years. Really, it mostly comes from the fact that, as a guy with guy clothes and functional pockets, I never need to think about things like purses or handbags or clutches. And so I never remember to draw them. So then this sort of thing happens.
This is it, by the way. The night is now done. I mean, there's the aftermath of the following morning and such, but prom night is finally, finally over. Only took two years.