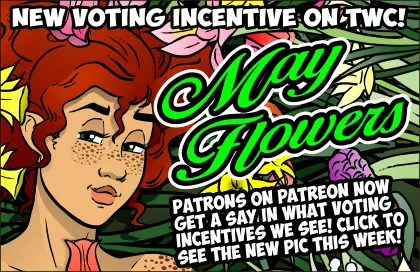 MAY VOTING INCENTIVE UP NOW!!!
April showers brought May flowers! And Puck!
As for this comic…
I seemed to recall that this was the iconic seating arrangement in the Mystery Machine, with Scooby and Shaggy relegated to the back, but a cursory re-watching of the original show reveals that (for the most part) only Scoob was in the back. Fred, Daphne, Velma and Shaggy ALL sat in a row on the bench seating in the front. Which is patently impossible in a real van. You can't fit four people in the front of any street-worthy van. Heck, you're not supposed to fit three people in the front seat anymore, according to pesky safety regulations. As it is, I violated modern safety codes to make the front have bench seating here and give us three characters in the front.
Four would just be stretching the bounds of believability, I feel. I mean, there's cozy and then there's cozy.