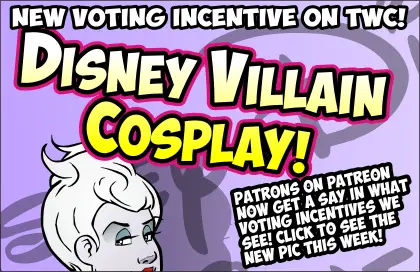 THE PATRONS HAVE TAKEN OVER!!!
That's right! The voting incentive pics are in the hands of the fans! Patrons on Patreon who pledge $5 or more a month get a personal say in what incentives are coming your way! If YOU want to put your two cents in, then my HEAD ON OVER TO PATREON and join the select club!
As for this comic…
This story arc is taking longer than I wanted it to. But then I get another idea, a new concept, or I feel that I need to add a comic to clarify things, and, well, the arc gets longer. It needs to end soon, though. It will! I think!