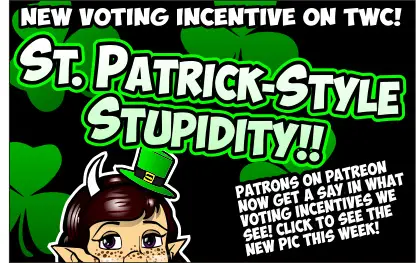 NEW MARCH VOTING INCENTIVE!!!
That's right! There's a NEW St. Patrick's Day voting incentive and it was chosen by fans! Patrons on Patreon who pledge $5 or more a month get a personal say in what incentives are coming your way! If YOU want to put your two cents in, then my HEAD ON OVER TO PATREON and join the select club!
VOTE FOR THE LUCK OF THE IRISH!
As for this comic…
Hey look, this comic is suddenly morphing into 'Mary Worth', or one of those old serial drama comics from a previous age where no punch line is required – just a good dose of melodrama! Melodrama: DELIVERED.
I think this is the first actual lip-locking scene in the comic. And between two unlikely candidates, no less.